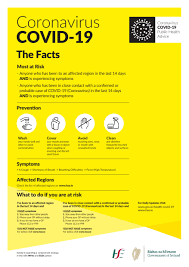 Emergency Times Call For Emergency Measures
The Cabinet has approved emergency legislation aimed at dealing with the current situation being caused by Covid-19. Titled "Health (Preservation and Protection and other Emergency Measures in the Public Interest) Bill 2020", it will be voted on by the Oireachtas on Thursday 19th March 2020.
The legislation has a number of aims. Firstly, it provides for the removal of waiting periods for social welfare payments where a person is diagnosed with Covid-19 or here they have been identified as a potential source of the disease.
Secondly, the legislation amends the Health Act, 1947. Section 10 allows the Minister to make Regulations for preventing, limiting, minimising or slowing spread of Covid-19 which includes restricting travel and movement of persons both within the state and outside the state. It also allows the minister to prohibit events or classes of events in order to prevent the spread of Covid-19. Section 11 allows for the detention or isolation of persons. For this to be done the following criteria must be satisfied:
(a) a person is a potential source of infection, and
(b) the person is a potential risk to public health, and
(c) his or her detention or isolation is appropriate in order to –
(i) prevent, limit, minimise or slow the spread of Covid-19, and
(ii) minimise the risk to human life and public health, and
(d) such person cannot be effectively isolated, refuses to remain or appears unlikely to remain in his or her home or other accommodation arranged, or agreed, by the Health Service Executive
Clearly, this is very significant legislation that should be time-limited and only apply whilst the current crisis continues. The legislation should only apply in extreme circumstances where a person is refusing medical treatment and should be subject to review by the High Court in the event that the legislation is abused or interpreted incorrectly. It is vitally important that we all help to curb the spread of Covid-19 on the basis of proportionality and necessity but also that rights are not permanently eroded.