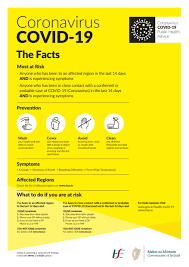 Health and Safety Legislation and Covid-19. As an employer what do I need to know?
The role of the Health and Safety Authority ("HSA") is set out in section 34 of the Safety, Health and Welfare at Work Act 2005. The functions of the HSA include overall responsibility for the administration and enforcement of health and safety legislation in the Irish workplace. The HSA monitors compliance with relevant legislation and can take enforcement action, up to and involving prosecuting individuals and/or employers.
Health and safety legislation places positive duties and obligations on organisations to protect the wellbeing of both their own workers and the general public. The purpose of the legislation is therefore to place an onus on employers to ensure that they have done everything `"reasonably practicable" (the 2005 Act actually gives a definition of this standard) to reduce the level of risk to their employees, contractors and members of the public. Section 77 of the Safety, Health and Welfare at Work Act 2005 makes it a criminal offence to breach the obligations contained within the Act.
Can I be prosecuted under the Act in relation to breaches of Government Guidelines in respect of Covid-19?
Given the numerous pathways to infection and the range of advice to businesses seeking to manage COVID-19 infection, it is likely to be difficult to identify sufficient evidence that an individual or organisation has failed adequately to address this risk. That said, a failure to take any of the steps recommended to address the risk or to conduct any risk assessment could be sufficient evidence to justify a prosecution.
First, before opening their doors, businesses should conduct and document a risk assessment and carefully scrutinise their pre-existing processes and procedures to assess and implement the measures, where possible, recommended in government guidance.
Evidence of a business's proactive assessment and management of health and safety risks will both protect their employees from harm, but also protect the business from enforcement action in the future.
For more Health and Safety Legal Advice please contact our office and ask to speak with our solicitors specialising in this area.
Niamh Kelly, Solicitor
29th June 2020