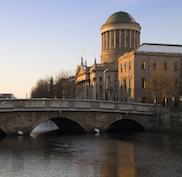 Michael J Staines & Company appeared in the High Court in an application for Judicial Review on 20th October 2016. Mr. F had been arrested and brought to Wheatfield prison four and half years after leaving Shelton Abbey where he had completed four months of a sixteen month sentence. We argued that the length of time it took the Gardaí to arrest Mr. F was an excessive delay and contrary to fair procedures. Mr. F had been living in the same house he had been living in prior to his incarceration, had collected Social Welfare in his local office and had applied for a driving licence for himself and passport for his daughter in his local Garda Station. Judgment was delivered on 7th November 2016.
The High Court ruled that there is a constitutional principle of reasonable expedition. There is nothing in the previous authorities that states that a person who absconds gives up all rights to fair procedures by the nature of their act. It was held therefore that the State have an obligation to act with reasonable expedition. It was evident that Mr. F could have been arrested by the minimum efforts of the Gardai.
The High Court also ruled that four and a half years is clearly on the wrong side of the dividing line in terms of what constitutes acceptable and unacceptable delay, especially in circumstances where Mr. F took no steps to conceal his whereabouts. The relief sought was granted as it constituted a breach of constitutional justice and the High Court ruled that Mr. F should not be returned to custody.